Since his arrival to the international art scene in 2012, Michael Turchin has quickly become one of today's rising stars in the Pop Art genre. Inspired by Hollywo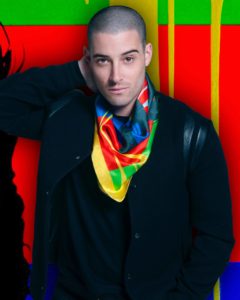 od's effervescent pop culture, Turchin's unique use of vibrant color, dynamic patterns, and unmistakeable humor has established his modern signature take on retro celebrity-driven pop art. Turchin's work has quickly garnered attention throughout the globe, and in just a few short years has become a favorite among Hollywood heavy hitters including Kris and Kylie Jenner, Lance Bass, Sela Ward, Lisa Vanderpump, and NBC's The Voice to name a few.
In early 2017, Turchin launched his highly anticipated limited-edition handkerchief line, TURCHIN, making his art accessible to the masses for the first time.  Drawing from some of his most adulated works, TURCHIN intertwines art and fashion in a truly exciting new way. WEAR IT. FRAME IT. LOVE IT.